Per chi e' questo corso?
Il corso online RYA Essential Navigation and Seamanship offre le conoscenze teoriche fondamentali necessarie per essere uno skipper. Il corso online puo' essere seguito ovunque ci sia una connessione internet, e puoi studiare comodamente da casa tua e alla velocita' che ti aggrada.
Pre-requisiti
Nessuno!
RYA Essential Navigation and Seamanship – Contenuti
Questo corso online ti aiutera' a capire ed imparare i fondamentali di teoria della navigazione essenziali per uno skipper. Navigazione su carte nautiche, regole per la prevenzione degli abbordi in mare (Colregs), segnali visivi e sonori, fari, sicurezza, ancoraggio…
Il corso e' gestito tramite il portale della RYA ed e' suddiviso in vari moduli. Potrai fermarti e ripartire quando ti pare e ci sono dei mini test alla fine di ogni modulo per verificare il tuo livello di apprendimento. Il tempo totale necessario allo studio e' di circa 10 ore. L'accesso al corso e' garantito per un anno e per un numero illimitato di ore durante questo periodo. Una volta finito il corso: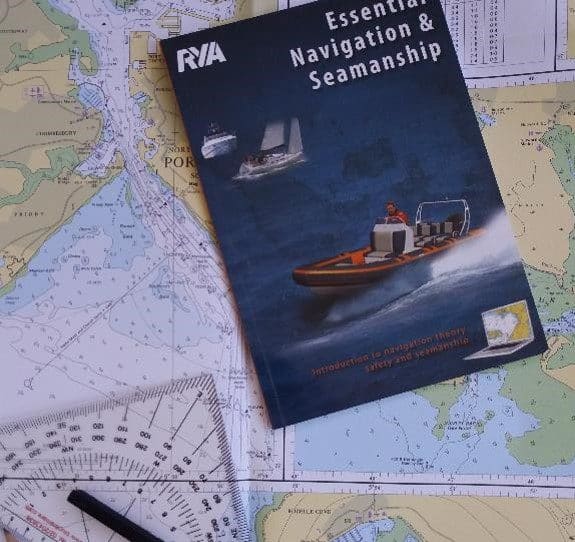 – avrai compreso i fondamentali della navigazione su carte nautiche, saprai determinare una posizione, riconoscere i segnali ed il loro significato.
– conoscerai le regole per prevenire gli abbordi in mare (colregs).
– riconoscerai le luci di navigazione e i segnali piu' comuni dei vari tipi di vascelli e avrai imparato la forma e le sequenze luminose delle mede e boe, segnali laterali e cardinali.
– otterrai il certificato di partecipazione al corso RYA Essential Navigation and Seamanship
Costo
299 Euro
RYA Essential Navigation and Seamanship – cosa e' compreso:
Il pacchetto del corso comprende:
– manuale RYA Essential Navigation and Seamanship
– 2 carte nautiche RYA per gli esercizi di navigazione
– Libretto degli esercizi
– Breton Plotter
– Compasso nautico
– Portolano marino RYA per training in formato .pdf (da scaricare online)
Nel caso tu abbia poi difficolta' col corso o abbia bisogno di assistenza, ci puoi chiamare al +43 664 88360842 o inviarci una email a info@white-wake.com e ti aiuteremo senza problemi.
Come prenotare:
Clicca semplicemente qui sotto, compila adeguatamente il modulo d'ordine, scegli il metodo di pagamento e via! Una volta ricevuto il pagamento, riceverai una conferma del tuo acquisto insieme ai codici di accesso per il corso online. Ti invieremo di seguito il materiale di studio per posta o corriere, che ti arriveranno direttamente a casa nel giro di alcuni giorni.
Verrai ridiretto alla pagina del nostro sito acquisti.