Who is it for?
The RYA Competent Crew is the starting point for your sailing. It is the recommended course if you have never sailed before or you have sailed only as a non-active passenger.
RYA Competent Crew – Minimum requirements
No previous experience required!
And if you just need a book to start studying ahead of the course or refresh your knowledge, you can visit our SHOP and purchase a few items there.
What do you get?
The RYA Competent Crew course will introduce you to all key aspects of sailing a yacht. The course is designed to provide a lot of learning for beginners or first-time sailors in a fun and safe environment. By the end of the week, you will: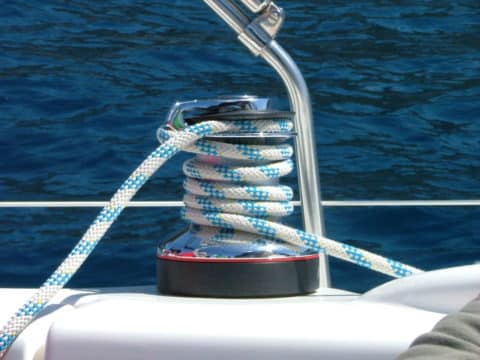 – be a competent member of the crew
– feel confident to play an active role in performing all maneuvers onboard
– be one step closer to becoming an RYA Day Skipper yourself
– have sailed among the most beautiful waters and bays in Croatia
– have made lifelong friends!
How to book
Scroll the list of the courses in the box to the right (desktop) or at the bottom (mobile) of the page, choose the date that suits you, and click on it to start the booking process
RYA Competent Crew – Program
You will be taught the fundamentals of crewing a yacht. Essential knots, nautical terms, sail handling and helming just to start with. You will also learn how to navigate in the traditional way, using lighthouses and conspicuous points to fix a position on the chart. You will take an active part in all maneuvers, including mooring, anchoring, navigating etc.
Since safety is paramount in all of our courses, you will also learn how to operate flares, lifejackets, safety harnesses, and liferafts. You will assist the skipper to recover a man overboard and participate in at least four hours of nighttime sailing.
You will spend the week aboard the yacht, visiting many beautiful bays and harbours in Croatia.
With a maximum of 5 students per yacht, your instructors can devote plenty of time to your needs and focus the program on the areas you need most.
IMPORTANT! If you want to be an even more competent crew member, why not taking also the SRC Marine Radio license? In case of an emergency, whilst the skipper deals with it, you will be qualified and able to properly carry out all the necessary distress radio communication. Exactly when you need it most!
You can book our online course HERE, then take the exam at our training centre in Croatia.
Exam
There is no formal exam to obtain the Competent Crew certificate. The instructor will follow your progress during the week, provide you with regular feedback in what is called 'continuous assessment', and constantly adapt the action plan to cover any gaps. At the end of the week, there will be a final one-to-one debrief, by which point the outcome should not be a surprise to anyone.
If successful, you will be awarded the RYA Competent Crew Certificate!
The RYA Competent Crew Certificate is the first step towards attending the RYA Day Skipper practical and obtaining the Day Skipper license
Cost
From 999 to 1,199 Euro, depending on the season
What's included and what is not:
Included:
– 6 full days tuition from an RYA qualified instructor
– Accommodation in a shared cabin onboard a modern yacht
– RYA Competent Crew Handbook
– Linens & towels
– Final boat cleaning
– Free Wi-Fi onboard!
– Marina fees at home port
– Competent Crew certificate (if successful)
Extras:
– Food and drinks (also for the instructor)
– Marina / anchorage fees outside of home port
– Diesel and Croatian tourist tax (approx 20 Euro p/p)
– Travel to/from Primosten
Location & time
Start: Saturday at 16:00
End: Friday at 15:00
possibility to leave already on the Friday evening, or on the Saturday morning
Marina Kremik, Primosten (HR) is conveniently located only 30 min drive from Split International Airport.
Since our courses start on the Saturday afternoon at 16:00, you have plenty of time to fly or drive and arrive at the marina. And if your plane lands a bit later, it is no problem!
We will return back to the marina on the Friday afternoon, and we will first enjoy a drink together to celebrate and debrief the achievements of the week.
Afterwards we will have time for a shower, chill and then you are free to either leave or stay for dinner together with the rest of the crew and leave on the Saturday morning by 9:00
How to book
Scroll the list of the courses in the box to the right (desktop) or at the bottom (mobile) of the page, choose the date that suits you, and click on it to start the booking process
For a detailed description of the RYA Competent Crew Syllabus click HERE