Who is it for?
The RYA Yachtmaster Offshore / Coastal is a challenging personal objective for you as an experienced skipper wanting to develop your skills further. It is also an essential qualification for professional skippers wanting to work in the maritime industry.
Pre-requirements (RYA Yachtmaster Offshore)
– Minimum age: 18 years old
– 2,500 miles on a sailing yacht, half of which in tidal waters (!)
– at least 5 passages over 60 miles each, of which at least two as skipper and 2 overnight passages
– 5 days as skipper
– 50 days onboard

Experience shows us that the requirements listed above, whilst they are the official minimum required by the RYA, are not necessarily comprehensive and detailed enough and more experience as skipper is needed. We will thus schedule a call with you to review your curriculum before accepting your booking.
Please also note that the theory knowledge requirements are high, especially with regard to passage planning, PEP and CTS, tides calculation, radar etc.
We, therefore, require that you have successfully completed the Yachtmaster shorebased theory course, now available also as an online version here: Yachtmaster shorebased online.

Candidates must also be holding:
– a valid SRC Marine Radio License
– a valid First Aid certificate

For Yachtmaster Coastal the minimum requirements are: 17 y.o. of age, 800 miles, 30 days onboard, 2 days as skipper and 12 night hours sailing. The miles requirement can be reduced to 400 if the candidate already has achieved the RYA Coastal Skipper certificate.
The Yachtmaster Offshore certificate is the first stepping stone if you want to progress your career and become an RYA Cruising Instructor .
What do you get?
This is not a pre-defined course, but rather a 'preparation week'. Time will be spent refreshing and refining your skills to help you sustain the Yachtmaster Offshore exam. This lasts between 8 and 12 hours per candidate and will be carried out by an external examiner. After the five days of preparation you will: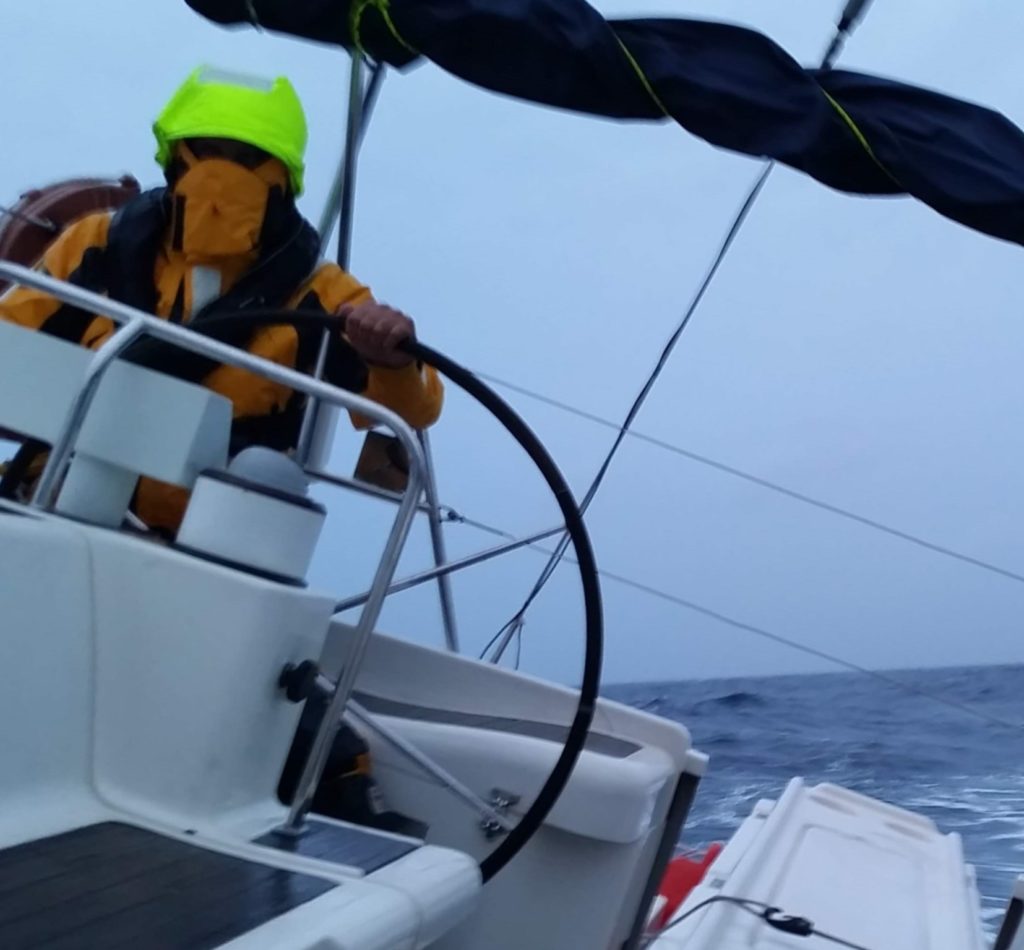 – have practiced a number of higher level maneuvers under sail and under engine
– have practiced and refined your passage planning skills and prepared a passage plan to present to the examiner
– be able to confidently lead a crew in the execution of a wide range of maneuvers
– feel confident to sustain and pass the practical exam
– have made lifelong friends!
How to book
Scroll the list of the courses in the box to the right (desktop) or at the bottom (mobile) of the page, choose the date that suits you, and click on it to start the booking process.
If no courses are shown, please give us a call at +43 664 88360842 or send us an email at info@white-wake.com, so we can discuss how we can help
Program – RYA Yachtmaster Offshore
We will spend five days reviewing all fundamental maneuvers under engine and under sail, including the recovery of a man overboard, coming to and leaving a buoy under sail, dropping anchor under sail, mooring stern-to and alongside, and more. We will also check your theory knowledge and navigation skills by performing a number of navigation exercises like blind navigation, use of transits to hold your course, night navigation etc.
Please note that there is so much we can do in five days, so it is important that you already have the basic knowledge and skills to sustain the exam.
The week will be full and very intense, with long days at sea and evenings spent reviewing theory concepts.
With a maximum of 4 students per yacht, your instructors can devote plenty of time to your needs and focus the program on the areas you need most.
Exam
At the end of the preparation days, we will be joined by an external RYA examiner who will explain in detail the plan for the next couple of days. Each candidate will be asked to perform a number of tasks and maneuvers to demonstrate his/her skill level.
The exam fee can be paid here: www.rya.org.uk/exams
For a detailed description of the RYA Yachtmaster Offshore exam expectations click HERE
Cost
1,399 Euro
What's included and what is not:
Included:
5 full days tuition from an RYA qualified instructor
Accommodation in a shared cabin onboard a modern yacht
Two extra days availability of the yacht for the exam
Examiner's travel costs
Linens & towels and final boat cleaning
Free Wi-Fi onboard!
Marina fees at home port
Extras:
Food and drinks (also for the instructor and examiner)
Marina / anchorage fees outside of home port
Diesel and Croatian tourist tax (approx 20 Euro p/p)
Travel to/from Primosten
YM Coastal / Offshore exam fee (currently 200, resp. 231 GBP), payable directly to the RYA
Location & time
Start: Saturday at 14:00
End: Saturday at 9:00

Marina Kremik, Primosten (HR) is conveniently located only 30 min drive from Split International Airport.
Since we want to make the most of our week, the course starts on the Saturday afternoon at 14:00.
Once arrived, we will provision the boat for the week, go through the safety brief and possibly leave already in the evening to make the most of our time aboard.
Departure is foreseen by Saturday morning by 9:00, however it may be that more time is required for the examination due to weather conditions, in which case we may arrive back in the marina later on Saturday
How to book
Scroll the list of the courses in the box to the right (desktop) or at the bottom (mobile) of the page, choose the date that suits you, and click on it to start the booking process.
If no courses are shown, please give us a call at +43 664 88360842 or send us an email at info@white-wake.com, so we can discuss how we can help