Who is it for?
The RYA Yachtmaster Ocean is aimed at those skippers wanting to adventure into ocean waters and for all lovers of astronavigation
RYA Yachtmaster Ocean – Minimum requirements
– RYA Yachtmaster Offshore certificate
– having sailed a passage of at least 600 miles, lasting at least 96 hours, and sailing at least 200 of those miles whilst being away from land or charted objects by more than 50 miles
– Being involved in the planning of the passage no later than 10 years from the date of the exam
– Having taken sun sights on a passage from one port to a different one, whilst using astronavigation to determine their position
see HERE the details of the requirements to attend this course
What do you get?
The RYA Yachtmaster Ocean shorebased course will teach you how to use a sextant to determine your position by use of the sight reduction tables and the nautical almanac. You will also learn about the four stages of a passage plan and the basics of ocean navigation.
By the end of the week, you will: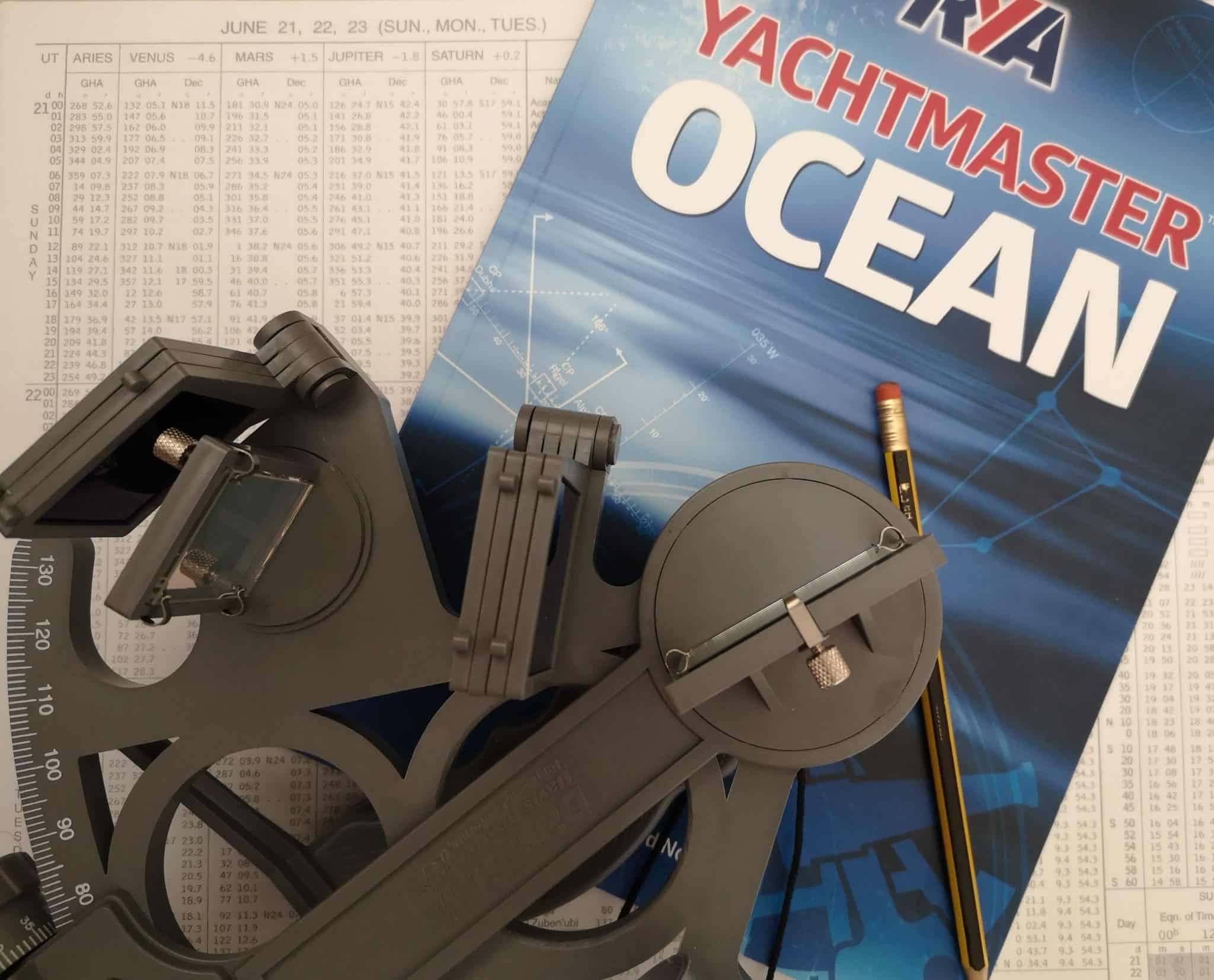 – be comfortable in the use of a sextant to take sights for the sun, moon, planets and selected stars
– convert ('reduce') sights into a position and plot a fix onto a navigation chart
– be able to prepare an ocean passage plan through all its stages, taking vessel, weather, time of year, crew, etc into consideration
How to book
Scroll the list of the courses in the box to the right (desktop) or at the bottom (mobile) of the page, choose the date that suits you, and click on it to start the booking process.
If no courses are shown, please give us a call at +43 664 88360842 or send us an email at info@white-wake.com, so we can discuss how we can help
RYA Yachtmaster Ocean – Program
You will be taught how a sextant works, the adjustments and corrections required and how to take a 'sun sight'. We will review the fundamentals of the astronavigation theory and then go through all the steps required to 'reduce' the sextant sightings onto a position fix.
We will do the same process for the moon, and also the key planets and stars.
Once comfortable with the sights and sights reductions, we will then proceed to plot them onto a chart and transfer your position. And we will do plenty of exercises along the way, until you are comfortable with all the steps.
The second big part of the course will cover passage planning and its key phases. We will go through the basics of ocean weather systems, so as to recognise an approaching storm and then discuss how to prepare for it
At the end of the course, there will be an assessment paper covering the topics above. Upon successful completion of the assessment paper, you will obtain the RYA Yachtmaster Ocean shorebased certificate
Cost
899 Euro
What's included and what is not:
Included:
40 hours of tuition from an RYA qualified instructor
RYA Yachtmaster Ocean training package, including:

RYA Yachtmaster Ocean Handbook
Exercise booklet, incl. plotting and sight reduction sheets
Training sight reduction tables
Training nautical almanac

Yachtmaster Ocean shorebased certificate (if successful)
Not included:
Ocean qualifying passage
Sextant sights to be used in the practical exam
How to book
Scroll the courses list in the box to the right (desktop) or at the bottom (mobile) of the page. Choose the date that suits you, and click on it to start the booking process.
If no courses are shown, please give us a call at +43 664 88360842 or send us an email at info@white-wake.com, so we can discuss how we can help